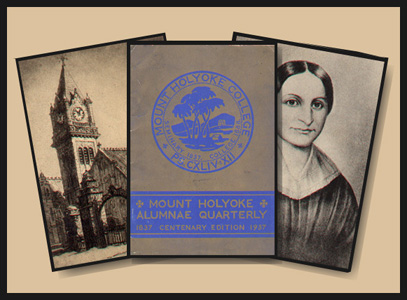 Vintage Mount Holyoke Ephemera
We have raised over $100,000 for the Jolene Fund since its inception. Now we are working on the second $100,000! The ephemera listed on this page is available as a thank-you gift for your fully tax-deductible donation to the Jolene Fund. The amounts below are minimum amounts that must be donated in order to secure that item, but feel free to donate more! If you donate more than the minimum, I will throw in some bonus items. The higher the donation, the better the bonus!
To arrange to receive an item on this list:
1. Send an email to dalbino83@yahoo.com to reserve your item. You will receive email back indicating whether that item is still available.
2. Send a check payable to Mount Holyoke College for the amount of your gift to the Jolene Fund. The amounts listed below are the MINIMUM desired to secure that item. Feel free to give more! Send an additional check payable to Donna Albino for $5 to ship your item. The address will be sent to you via email.
3. You will get your item mailed to you, and you will get an acknowledgement of your gift from the College. Your donation is entirely tax deductible (except for the $5 shipping fee).
4. Give your item to your favorite student or alum for the holidays, or keep it for your own collection. Thank you so much for your support of the Jolene Fund!

---
The Good Girl and True Woman (1864) - elements of success drawn from the life of Mary Lyon. Gift inscription, mother to daughter, on front end paper dated 1865. Well worn, but still, a lovely glimpse of the ideal woman of the 19th century. $20 SOLD

The Mount Holyoke (April 1896) - the literary magazine started in 1892, but since the college newspaper is still a few years away, it also contained college news and alumnae news. Period advertising on the cover and end pages. A nice gift for anyone who has worked on the student publications! $20

The Mount Holyoke (January 1900) - the literary magazine started in 1892, but since the college newspaper is still a few years away, it also contained college news and alumnae news. Period advertising on the cover and end pages. Cover is in bad shape, but it does has some nice printed photos of the early dorms laid inside. $20 SOLD

The Mount Holyoke (January 1901) - the literary magazine started in 1891, but since the college newspaper is still a few years away, it also contained college news and alumnae news. Period advertising on the cover and end pages. A nice gift for anyone who has worked on the student publications! $20

Views of Mount Holyoke College (1904) - the best of several view books printed in the early part of the 20th century. What made this one stand out above the rest is the inclusion of photographs with students in them. Students making fudge over a chafing dish, in the laboratories, playing tennis, in dramatic costume, playing basketball, and more. Some wonderful interior shots in the gymnasium and the dorms. Gorgeous! $200 SOLD

Llamarada (1905) - a wonderful old yearbook with plenty of photographs. A terrific present for someone in the class of 2005. $20 SOLD

Life of Mary Lyon (1910) - a biography written by a Mount Holyoke alum. $20

Doris a Mount Holyoke Girl (1913) - sorry for the steep price on this one - this is only the second copy I've discovered in 25 years of searching, and I had to pay a lot to get it. It's a novel about several Mount Holyoke Seminary students attending while Mary Lyon is still alive (1845-49). Here's a tongue-in-cheek review from someone who read the book: "Mary Lyon descends from heaven on a golden chariot, heals lepers, makes the blind to see, changes shrimp wiggle into filet mignon, and incidentally founds this school for girls. Everyone falls about in joy and rapture. They wait for her every gem of knowledge and guidance, like "go sweep your room!" or "those towels look a little dingy." Then God decides he could use some help running eternity and stuff, so she climbed to the top of Mt. Tom and ascended into heaven. That's why they celebrate Mountain Day at MH." It's an exaggeration, but it's pretty accurate. $200

The Mount Holyoke (March 1913) - the literary magazine started in 1891, but since the college newspaper is still a few years away, it also contained college news and alumnae news. Period advertising on the cover and end pages. A nice gift for anyone who has worked on the student publications! $20

In Old Bellaire (1906) - written by the mother of a Smith alumna, this is a novel about a Mount Holyoke Female Seminary alum teaching at a school in the South during the Civil War era. She's attracted to a bad boy, and pursued by a good boy ... who will win her heart in the end? Very easy reading, which is not always true of older novels. Book is in worn condition. $100

Mount Holyoke College (1909) - photographed by a faculty member, this was the third edition of the campus view book. (The 1904 edition listed above is more spectacular, but this one is quite nice too.) There are over 40 pages of photographs around the campus. If you're a postcard collector, you will recognize some of these photos from the postcards this faculty member also published. Tied at the spine with a dark twisted cord. Slightly dirty cover, but the inside is pristine. $50

That Freshman (1910) - written by a 1903 alumna; a wonderful fictional story about Mount Holyoke's class of 1908 as freshmen, and how the class of 1907 gave them hard times. Lots of girl-girl crushes, fun to read, and very accurate as to the MHC college experience of the time. Cover illustration is worn and spine is loose, but that's pretty typical of this title. Four color illustrations; one shows Porter Hall in the background! $100

Llamarada (1914) - spine is damaged, but all pages are present. $20

Llamarada (1917) - average condition. $20

Mount Holyoke College and Leadership (1920) - a large format soft-covered book about the College. $10.

Llamarada (1920) - average condition. $20

Mount Holyoke College Songs (1923) - music and words to songs written by Mount Holyoke students. Cover damage does not extend to the text. $20 SOLD

Laboratory Theatre (1928) - a large format soft-covered book about the the Laboratory Theatre founded by Jeannette Marks. $10.

Llamarada (1930) - average condition. $20

Llamarada (1931) - average condition. $20

On a New England Campus (1937) - my favorite book about Mount Holyoke! An alum interviewed many other alums and faculty members to pull together this fascinating oral history of Mount Holyoke from the Seminary days to its Centennial in 1937. Signed by the author, but missing its dust jacket. Otherwise in beautiful condition. $20 SOLD

Mount Holyoke College Hundred Year Poems (1937) - 10 page pamphlet with three poems by Roberta Teale Swartz class of 1925. $10. SOLD

An Altered Book Artist's Project (1910s-1940s) - I have a blank Mount Holyoke scrapbook from approximately 1915, plus a lot of programs and Mount Holyoke ephemera from that era. Take the whole bunch of it, and turn it into an altered book! I've held onto this far too long thinking I was going to do that myself, but I think I should just let it go. $50.

A Doctor in Homespun (1941) - a memoir of a Mount Holyoke woman born during the Civil War. She was a doctor and an accomplished fiber artist. The book is autographed. $20.

The First Hundred Years (1972) - a history of the Alumnae Association at Mount Holyoke. $20.

A Vision Realized (1997) - a photo book by William Mercer, with quotes by Mary Lyon. $20.

Mount Holyoke Courageous (2000) - young Christian women (all Mount Holyoke alums) go to the Near East, 1840-1872, and respond to the Armenian Holocaust 1872, 1895, and 1915. An absorbing description of the alums and the events they witnessed. $20.

Mount Holyoke College (2001) - a signed copy of my book. $25.

Vintage postcards and modern reproduction postcards (1905-2007) - add to your collection, or start your collection of Mount Holyoke College postcards. Some are vintage postcards from the early 20th century, and some are limited edition cards I had made from vintage photos in my collection. You will love them! $20