Pangaea: Bracelets from Handmade and Vintage Paper
These are good examples of the elements I use most frequently in my jewelry. All of the jewelry pictured here has been sold. Bracelets are $30 plus shipping.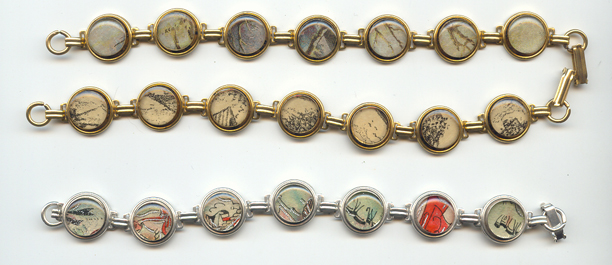 I make bracelets with the many kinds of vintage paper. Some are printed; some are handwritten; some are typed. I do not use photocopies of vintage paper; I use the real thing. I also use vintage watch parts in some of my work. Sometimes I use vintage drawings, vintage postmarks and stamps, or the images on vintage greeting cards or postcards. I offer bracelets in silver, gold or copper, and the cups are round, small round, or rectangular.

I can make bracelets or pendants with handmade paper instead of vintage paper. This bracelet was made with a multicolored green paper, with a little glitter added before sealing.

© Copyright 2009. All rights reserved.
Contact: Donna Albino