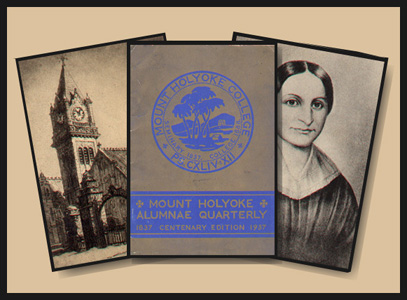 Finding Vintage Mount Holyoke College Items
So, you've searched my website and I don't have the item you want. Where can you go next? Your first step should be to email me and tell me what you want. I don't have everything listed yet, and I just might have it on my "things to add" pile at home. Or I may know where I can get one for you. I have registered with dozens of dealers all over the place, and they all know I want Mount Holyoke ephemera; I don't always buy every item, and I may have turned down just the item you want! So please, do try me.
But if you want to keep searching on your own, depending on what you are looking for, one of these online sellers might be just the ticket.
---
Is it an out of print book you were seeking?
Try one of these booksellers, who specialize in used, rare, and out of print titles.
Click on the logos below to search their inventory.

This book site is exclusively for new and used books by Mount Holyoke alumnae and professors, and also books that are about Mount Holyoke.
---
| | |
| --- | --- |
| | My favorite used-book resource - I've bought more books through ABE than all the others put together! |
---
| | |
| --- | --- |
| | Alibris is a good resource to check for unusual titles; they have the inventory of hundreds of book dealers listed on their website. |
---
| | |
| --- | --- |
| | eBay is the premier online marketplace for finding just about anything. If you look long enough, you'll find it here. I also sell items on eBay occasionally; sometimes it's something from this web site, and sometimes it's something I hadn't had time to put on this web site first, so don't skip over anything! |
---